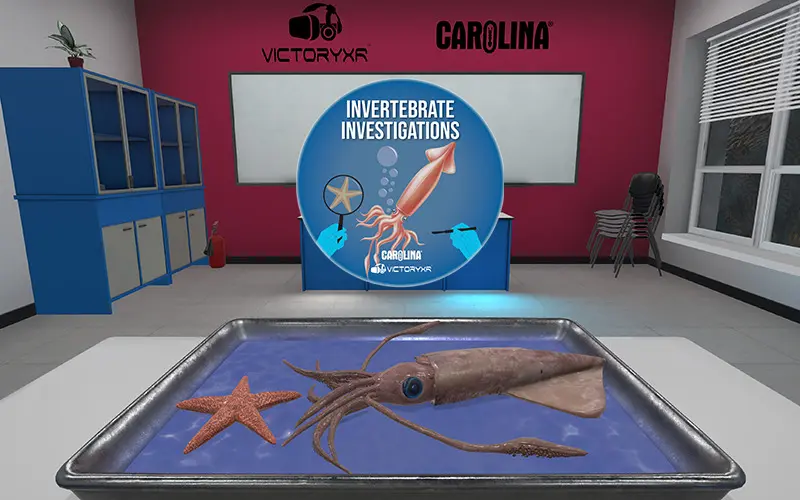 Virtual Reality Learning Solutions Direct to Your Headset for an Individual Experience – 1:1 Asynchronous Software where students can learn at their own pace.
The entire program adheres to the Next Gen Science Standards (NGSS), America's framework for science learning. In addition, we've implemented the processes and procedures of Carolina Biological–America's leading supplier of science education materials.
● Over 250 learning experiences covering science and history
○ 48 units of immersive interactive science content
○ 125 360 Virtual field trips that are both science and history-based
○ 6 animal dissection units: Frog, Pig, Dogfish, Feline, Squid, and Starfish
○ Mamaleman Organ Pack Dissection
○ 2 interactive educational dinosaur units
● Perfect for middle school, high school, and some undergraduate classes
● Includes fully-interactive experiences, 360-degree field trips, and immersive VR videos
● Individual learning, rather than group learning; asynchronous simulators
● Includes six dissection units developed with Carolina Biological, the world's leader in specimen dissection
● Each unit includes an NGSS Aligned Teacher Support Page
● Works with 3-DOF & 6-DOF headsets
● Led by an award-winning science teacher, Wendy Martin
● Simple and effective: Users download, install, and play a program all within a few clicks
● VXR.Direct works with both tethered and mobile headsets
● Once a user is subscribed, access is granted to the entire VictoryXR library
● Works on Oculus Go, Quest, and Rift, the HTC Vive, the Lenovo Mirage, Windows Mixed Reality headsets and the Pico Goblin and G2
● More content added all the time
* Please take note that this software requires Windows OS to install and run
Need a headset? Make it a bundle…
Do you have a question or need support from someone on our team?